Band Stars is probably the last game Halfbrick is going to launch this year. With the super success of Fish Out of Water and JetPack Joyride, not to forget their good old Fruit Ninja HD, I was having really high expectations with this game especially due to the fact that they are diving into a complete new genre(that of band management). After playing Band Stars for 2 straight days and having composed more than 30 songs I can tell you that this is one of the strongest contenders of our 2013 best apps competition. Let's review Band Starts from every possible perspective and find out why it struck the right tune with me.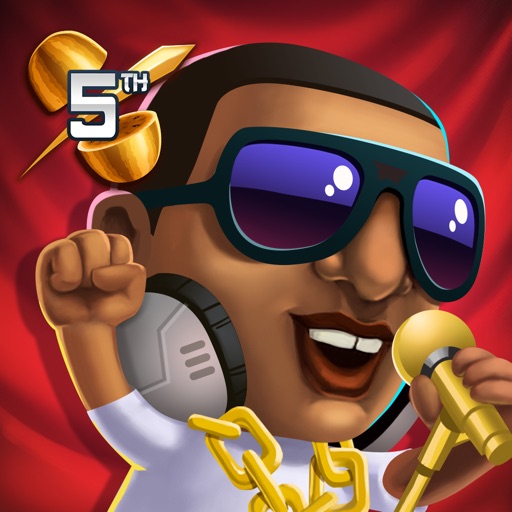 Band Stars Concept: Strategizing a music band
Band Starts is a strategy game that incorporates everything about band music into a cohesive ecosystem. You start off by choosing 5 different members from a pool of candidates and form your band. You give it a nice little name and start your journey towards becoming an international music sensation. The entire screen shows your band room and is pretty much constant throughout the game. This is where all the magic happens and there is a lot going on for you to manage all the members and create hit songs.
You start off as an amateur band composing your first song only to see it at the bottom half of the music charts. These charts are further divided into: local, national and global making this game vast and progressive over a long period of time. One thing that I quickly realized is that you cannot become an internationally recognized band in just a few days. You need to keep at it every single day and make sure that you are spending your earnings wisely to achieve the top levels of success. So, you have the band members, the music instruments in the garage and the billboard charts. Just when it seems too lot to take in you are presented with the option of composing your own genre of music, upgrading instruments, enhancing skills of band members and much more. By now you should have a pretty clear concept of the main objective in Band Stars. Let's take a detailed look at the various functionalities and the components that make it a strategy game in our gameplay section below.
Band Stars Gameplay: Your band your choice
Once you are through with your preliminary steps of setting up the band foundation it's time to create your first song. Well, you are not going to compose anything as you would in Garageband but there are lots of details that you need to master in order to make the song a super success. Each song has three parts attached to it. First, one member has to choose a genre of music and lyric type. As you progress through the game you get to unlock more genre and music types giving you a wide range of combinations to choose from. However, you need to use your head a bit and decide which lyric type suits a particular genre of music or your song won't do well in the billboards. These little details are just the beginning and there are plenty of other stuff that makes Band stars a true delight for any strategy gamer.
I once selected the Hip Hop genre with love only to find out that the combination is moderate. On the other hand my first big hit came from Hip Hop + City lyrics. After selecting the desired combination you get to see a smile on your screen indicating whether the combination is good or not. A happy face is more likely to make a hit song compared to an okay or a sad face. Now it's time for you to select a member to write the lyrics. Each band member comes with their own set of attributes set at a predefined point. This is where training comes in where you need to invest money that you earned from the songs into training your band members in order to improve their skills in rhythm, melody, lyrics, acoustics etc. Each member is likely to have their own set of specialties indicated by the high numbers and you should use them particularly for that purpose in order to make a better song.
The second part is actually composing the song. This is where multiple band members jam for a season to crate the whole song. You need to juggle between your members and decide who will play what instrument in order to generate a higher point score for the final song. Once you are happy with a particular composition hit play and your band starts rocking it on their instruments. This is where the game diversifies and opens yet another possibility to score more points using a system called Solos. Basically you need to use one of your in game economies (inspirado) and enter the solo mode with any individual. Here you need to tap a red button and keep the bars at green in order to collect large bonus points for your song. If you can stack up a lot of inspirado and do three or more solos with different members of the band then your song is surely going to rock the charts on the top three spots.
Hiring musicians but no firing
Another cool element in Band Stars is the ability to expand your band with new members. There is a dedicated hiring button that lets you run an audition. Depending on the amount of money you are willing to spend the auditions will provide more quality artists. This means that using an online advertisement audition will produce artists of fewer calibers compared to an expensive agent hunt. All of this plays an important role in shaping your band for the future. One thing that's not so cool is the inability to fire a band member. This means that when you run out of slots you need to access the VIP Lounge and buy additional places using precious energy drinks.
In Game Economy: Classic Freemium
Okay now that I have been mentioning about the different in-game economy that plays a factor in deciding the fate of your band let me explain them in greater details. Basically you have three currencies that you need to manage. The basic and the easiest to earn currency are coins. You can use your coins to buy new instruments, instrument skins, start training exercise with a band member and invest them in auditions.
The second in-game currency in Band Stars is inspirado. These can also be referred to as inspiration points. You can drag any member on a particular instrument to start playing them in order to earn inspirados. Similarly, completing objectives also lets you earn all these in-game currencies. Every band member has an energy bar and cannot do anything when it's empty.
The energy bar leads to our third in-game currency, the most valuable of them all. It's called Energy Drinks. These drinks can be used to replenish the energy of your band members without having to wait for a long time. You can also use your coins to buy pools, video game machines that can be used to replenish energy a bit faster than usual. Finally, you have a fan following count but I didn't see any use of it in order to upgrade something inside Band Stars. These currencies work seamlessly with each other ensuring that you manage all of them efficiently in order to progress through the game. You can also buy the virtual currencies using real world cash. This is the trend with lots of games these days and the freemium concept seems to be making more money than a flat up-front payment. However I felt that the prices for the in-game currencies are a bit too harsh.
Conclusion
Band Stars got everything right and it seems Halfbrick will have another superhit in 2013. You got just the right amount of details and options required to manage your band. Each member has a responsibility and the training sessions are a great way to harness their true potential. The game excels when it comes to social competition because you can compete not only at the global leaderboards but also against your Facebook friends. There are lots of combinations for your song selection and just might create the next viral hit. It's pretty unclear how the viral system work but it happens randomly for a perfect song category and you need to invest energy drinks to make a hit song hit the viral charts. At the end of the day nothing pleased me to see my band ranking number 1 with one of the songs that I put my effort into as a band manager. Band Stars is surely one of the best iPad strategy games of 2013.
Wrap Up
Final Score – (9.2/10)
Pros
Beautifully crafted strategy game getting every detail right about the band industry.
The characters are pretty diverse with their unique skills.
The song charts provide an excitable platform to keep giving bigger hits.
Cons
In App Purchases are expensive compared to how much you need to spend them for substantial progress.
You cannot fire a band member once hired. Choose wisely.